Kowa Joint Roller
– When you reach a certain age, you will encounter problems such as joint pain, shoulder pain, back pain, etc. To solve these problems, Kowa company has launched the Kowa EX Osteoarthritis Pain Roller product line. W 90g Japan helps reduce pain extremely effectively.
Kowa Ex 90g Osteoarthritis Pain Relief Roller is a Banterin joint product with the famous Kowa Osteoarthritis Gel on the Japanese market & Asian countries. Compared to the roll-on gel, it is more convenient to use, absorbed faster with the same composition and effect as the gel.
Uses
Banterin Kowa EX W 90g joint pain relief roller Japan is a product line to relieve joint pain made in Japan. Non-steroidal anti-inflammatory that penetrates deep into the skin to effectively relieve pain with the main ingredient Indomethacin.
· In case of pain in the shoulder, neck, knee, limbs, elbow and wrist pain due to arthritis, sprains… should use Banterin Kowa EX W Osteoarthritis Pain Relief Roller. Especially often suffer from frequent pain and discomfort because of arthritis.
· When rolling onto painful areas in the shoulder, back, elbow, knee, limb, etc., the cream will penetrate continuously, reducing pain from the infected area to the surrounding.
User manual
– Apply and massage evenly on the painful area.
– Do not use more than 4 times/day.
– Pregnant and lactating women and children under 11 years of age must consult a doctor before use.
Note:
· This product is not a medicine, it is not a substitute for medicine.
Do not use for a long time, if you want to consult a doctor before use.
Do not use on areas near the eyes, areas with rashes, open wounds, festering wounds, boils, filariasis.
Effective use of the product depends on the location of each person.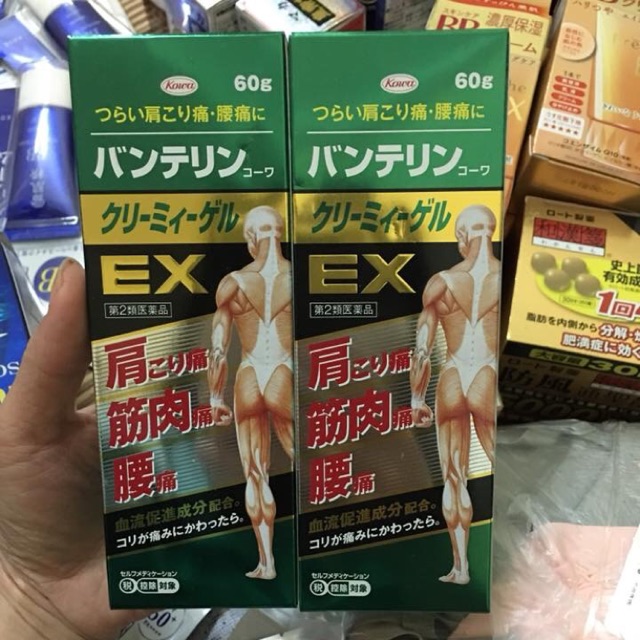 Should not be used:
· If allergic to rolling joint, should stop and consult a doctor.
People with a history of asthma.