GENERAL INTRODUCTION
DHC's vitamin B mix oral supplement is a form of B vitamins such as B1, B2, B6, B12, Niacin to help comprehensively supplement pantothenic acid, Biotin, Inositol, 8 types of folic acid to help increase the amount of red blood cells in the body, The skin becomes rosy, eats better, the hair is healthier, gradually reducing the signs of nutritional deficiency after birth such as: hair loss, anemia, poor blood circulation, numbness in the limbs…
USER MANUAL
Take 2 capsules per day, any time.
Do not drink with tea (tea) but should drink with boiled and cooled water (because tea interferes with iron absorption).
Do not take with antacids for gastric and duodenal ulcers (iron is not absorbed), do not take with tetracyclines (tetracycline is reduced absorption).
After taking the medicine, the stools are black (due to the color of iron, this is not a sign of concern).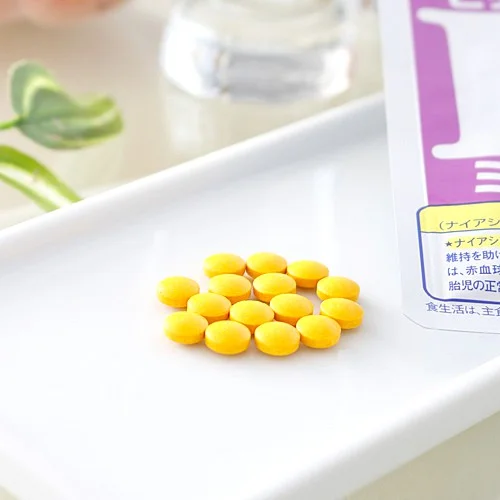 INGREDIENT
Niacin 40mg, Folic Acid 200μg, Biotin 50μg, Vitamin B12 20μg, Pantothenic Acid 40mg, Vitamin B1 40mg, Vitamin B2 30mg, Vitamin B6 30mg, Inositol 50mg
Vitamin B is a group of water-soluble vitamins, very important and necessary for a healthy and energetic body, in addition to helping manage migraines and depression. Adding B vitamins to your diet is important, because B vitamins help the body metabolize carbohydrates, fats, and proteins.
B vitamins are indispensable vitamins to nourish smooth skin, but they are rarely present in skin care products. Therefore, please supplement these micronutrients with DHC Vitamin B supplements of the famous Japanese DHC corporation.
Note: This product is not a medicine, has no effect on replacing medicines